Project Introduction
Kintsugi is interBTC's canary network on Kusama. A 1:1 Bitcoin-backed asset, fully collateralized, interoperable, and censorship-resistant. Kintsugi is maintained by a decentralized network of collateralized Vaults who secure locked BTC on Bitcoin.
Project Highlight
Kintsugi, same as interBTC, is the only fully trustless and decentralized Bitcoin bridge. It is based on top-tier scientific research and has been audited by leading security firms. Anyone can become a Vault, anytime, and help secure BTC by locking collateral. Users thereby only trust that Bitcoin and Kusama are secure: the protocol guarantees that users can always get back their BTC, or will be reimbursed in collateral at a beneficial rate. Kintsugi thereby features a MakerDAO-like multi-collateral model, allowing for stable and interest earning assets as collateral. Users can also delegate stake to Vaults, allowing Vaults to take up leveraged positions and allowing for better strategies.
Project History
Kintsugi is interBTC's canary network. interBTC is based on the XCLAIM protocol, invented in 2018 by the Interlay co-founder, and published as a peer-reviewed top-tier security paper. Interlay was founded to build XCLAIM and received two Web3 Foundation grants (2020 & 2021) to implement interBTC on Polkadot (initially branded as PolkaBTC). Alpha testnet was launched in November 2020 and feature-ready Beta in March 2021, and will now run for Kusama auctions 6-10.
Investors
IOSG - Launchub Ventures - Blockchain.com Ventures - KR1 - Hypershpere - CMS - Zee Prime Capital
KINT Tokenomics
Kintsugi will be governed by its community from day 1 - via KINT, Kintsugi's governance token. Kintsugi will go live via a fair launch scheme.
KINT tokens will be distributed to network participants, builders and early backers as airdrops and block-rewards. There will be no public sale or ICO.
Below is a summary of the Kintsugi token economy, as described in the token economy whitepaper released by Kintsugi Labs.
The KINT token's main purposes are:
Governance- KINT holders vote on governance proposals and elect council members to make operational decisions.
Utility. Mit-term, Kintsugi will support transaction fee payments in KINT and other digital assets, in addition to KSM.
KINT features an unlimited supply. The emission schedule is defined as follows:
10 million KINT emitted over the first 4 years (4:3:2:1 million)
2% annual inflation afterwards, indefinitely.
Specifically, the emission schedule for the first 6 years looks as follows: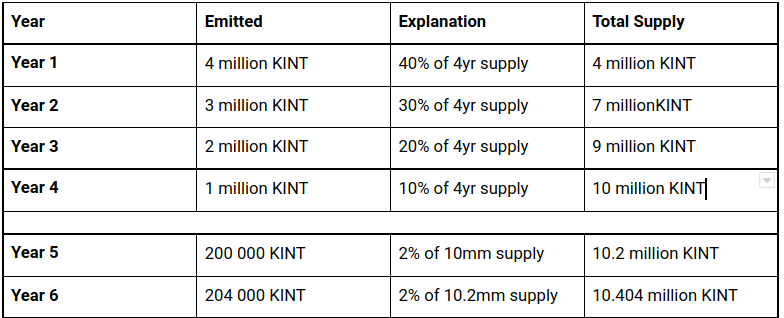 KINT will be controlled by the community:
70% is distributed to the community as airdrops and block rewards.
30% is airdropped to the Interlay team, and early & future investors, who funded development of the protocol - subject to 1 year followed by 1 year linear vesting.
Starting in year 5, only the community receives new KINT from the annual inflation.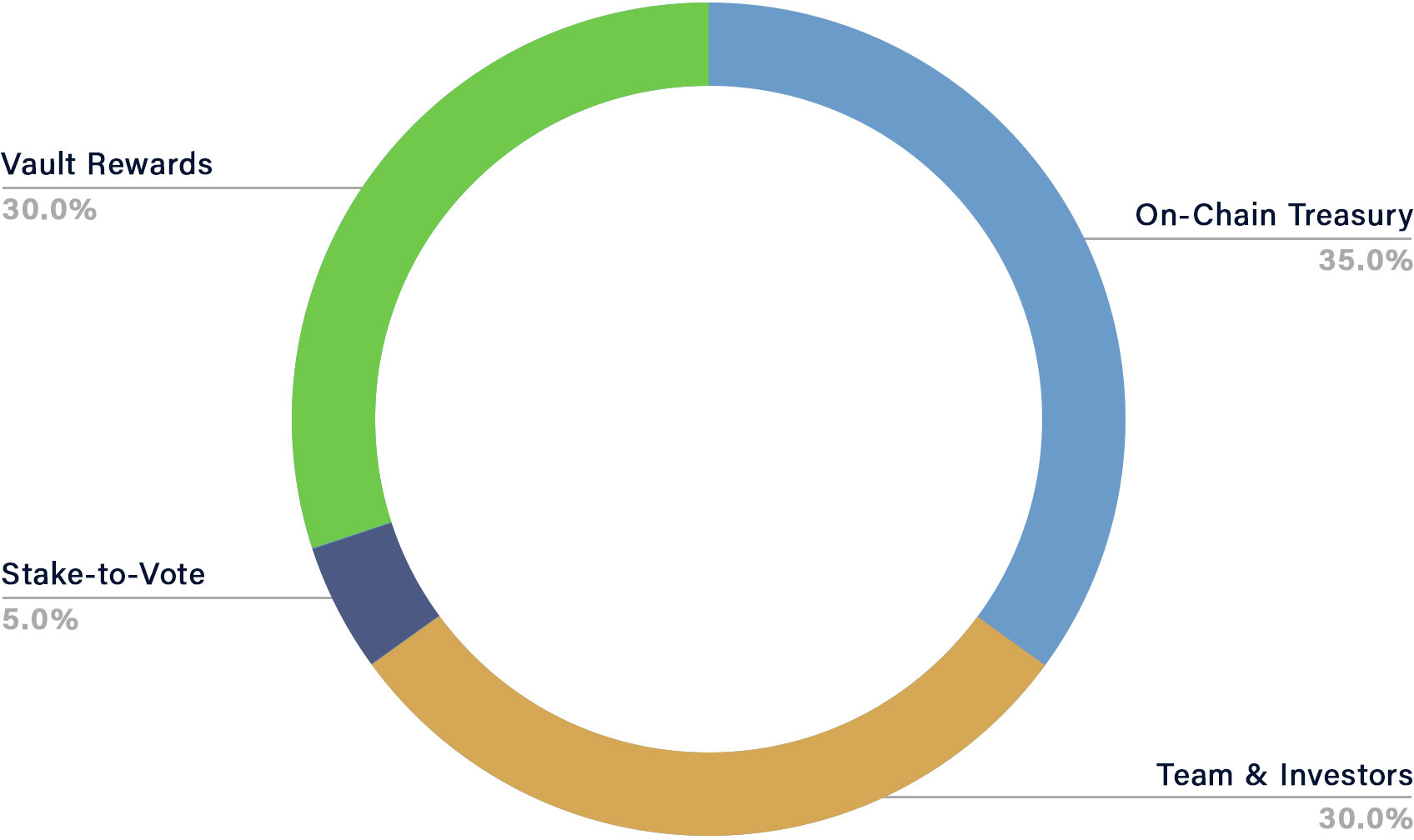 Distribution of the initial 4-year supply.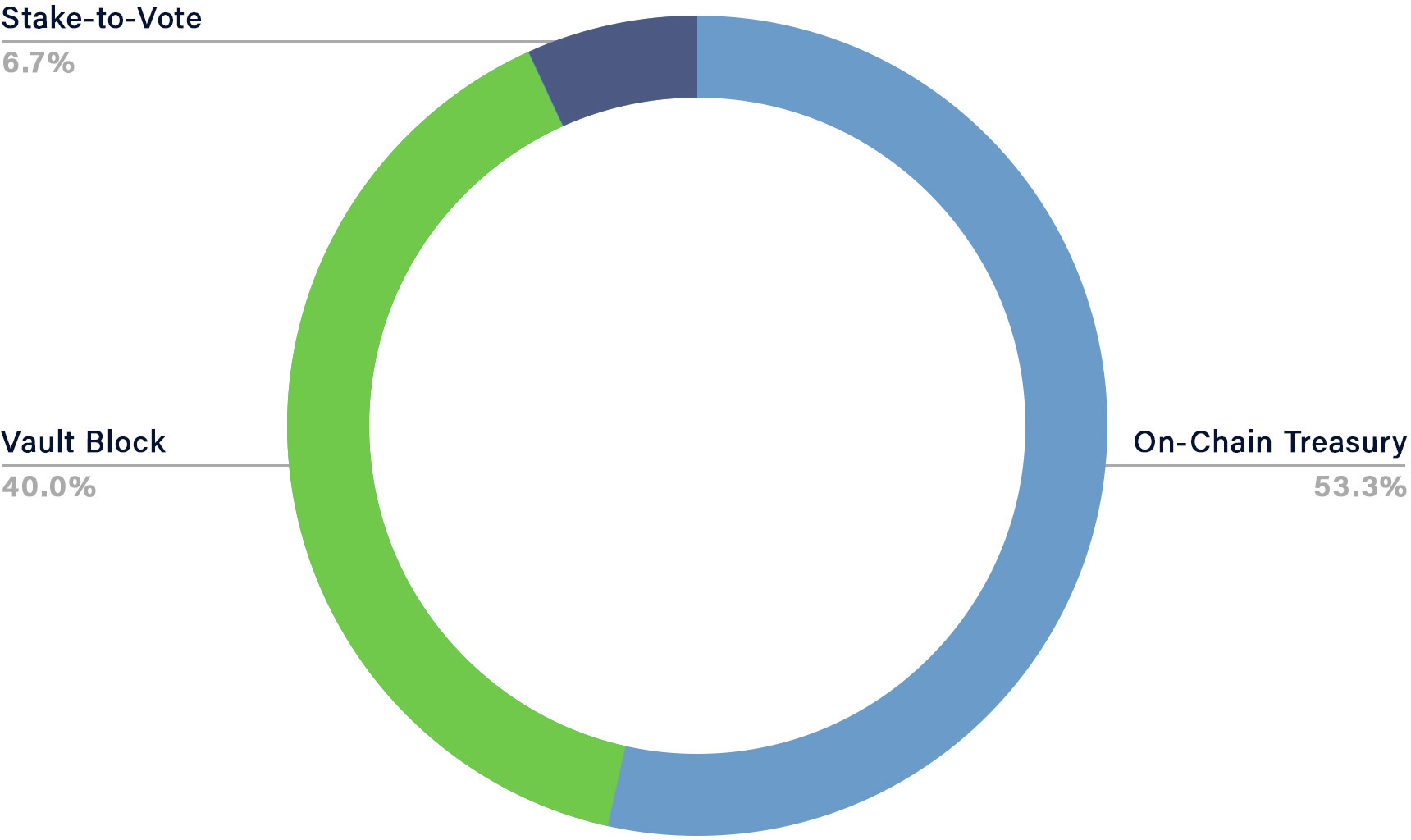 Distribution of the 2% annual inflation starting in year 5.
---
For a detailed breakdown and explanation of the KINT distribution, check out the token economy whitepaper released by Kintsugi Labs
The Kintsugi Crowdloan
Kintsugi participates in the Kusama parachain auctions and supports a crowdloan to enable the community to vote. To participate in the crowdloan, you need to lock your KSM and vote for Kintsugi to become a parachain.
Below is a summary of the Kintsugi crowdloan details, as described in the token economy whitepaper released by Kintsugi Labs.
Target slot: 6 - 10
Lease duration: 8 periods (maximum lease duration ~48 weeks)
Max. lockup target: 200 000 KSM
Crowdloan Airdrop: 10% (1 million KINT) of the initial 4-year supply
The main crowdloan airdrop will comprise 10% (1 million KINT) of the initial 4-year KINT supply, with the following vesting schedule:
30% transferrable at launch
Remaining 70% linearly vested over 48-week parachain lease period.
Thereby, this airdrop will feature the following special allocations, to create a proactive crowdloan process:
Early: 5% for first 3 days of crowdloan
Referral: 5% for the referrer and referred
Success: up to 100 000 additional KINT if specific KSM lockup targets are achieved. See table:
Any KINT not used for the Core, Early, Referral and Success Airdrop will be distributed proportionally among all participants, further increasing the ratio of KINT per locked KSM.
Power User Bonus: 2% (200 000 KINT) of the initial 4-year KINT supply
To incentivize kBTC adoption, 200 000 KINT will be airdropped to crowdloan participants who then also run Vaults and mint kBTC on Kusama, once Kintsugi is live. These airdrops will happen over the course of the first parachain lease period. In addition, protocol governance may approve special kBTC LP programs for crowdloan participants.
Participating in the Crowdloan
The crowdloan is a fully permissionless event - you make your own judgement on if and how you would like to participate.
We recommend the following ways to participate:
Participate via the Kintsugi crowdloan website using the Polkadot.js browser extension.
Participate via partner exchanges.
Participate via partner mobile wallets.
Step-by-step guides incl. screenshots will be posted here shortly.